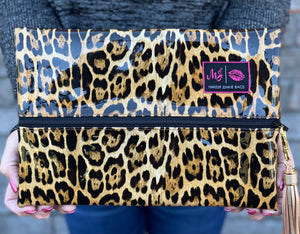 Makeup junkies will quickly become your new best friend! From travel to play, these little bags pack so much in a seemingly small pouch. With a center zipper, this bag ensures your items don't fall to the bottom of the bag, allowing easy access to products as well as a lay-flat designing (amazing for traveling!) 
Handmade in Texas
Black wipeable interior
Leopard / cheetah print 
Makeup Junkies lay flat for easier traveling
Our designer makes sure that each Makeup Junkie bag comes with a coordinating tassel

LIFETIME WARRANTY through the manufacturer

Sizes:

Micro: The MJ Micro is the perfect keychain accessory to store credit cards, cash, chapstick, airpods, jewelry, business cards, etc. This one does not have a wipeable interior.
Mini 9"x 4" : The mini makeup junkie bag is perfect for your phone, cash, business cards, credit card, pens/pencils, etc.

Small 9" x 7"
The small is perfect for a small makeup bag, jewelry, electronics, diapers/wipes, medication, etc. This one is great to throw in a bag or separate items out of your luggage to keep you organized. 


Medium 12" x 8.5"
The medium Makeup Junkie Bag is great for baby items, snacks, makeup, hair products, hair tools (straightener/curling iron/combs/brushes) and the wipeable interior makes it a great wet bag -- perfect for inside your beach bag!

Large 14" x 9"
This Makeup Junkie fits full sized hair products, shampoo, school supplies, clothing items like bras and underwear you may want to separate from your luggage. The large bag also fits a full-sized makeup palette, face cleansing tool, full-size electric toothbrush & toothpaste!